There are many sightseeing spots in Kaminoyama city.
We introduce the main sightseeing spots.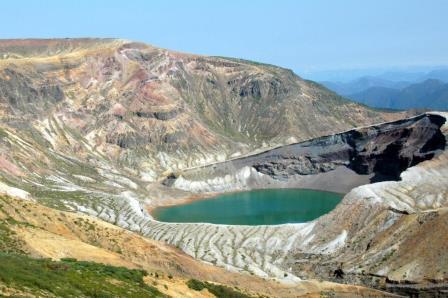 Zao Okama

Okama is the volkano crater lake of mt.Zao. Okama Crater with lake is the most popular place in Zao in summertime, while Ice Monster is the best in wintertime. The present crater was created by the explosion about 800 years ago. The comparison of emerald green-colored surface of the lake and rough crater walls produces a mysterious atomsphere. This lake is also called as "Goshikiko" (lake of five colors) since its surface of emerald green changes its color according to the weather.

There is the free shuttle bus from Kaminoyama Onsen. In summer, it is very cool there. Many people come to see Okama by Shinkansen.When it is fine, we can go arround nearby. The green color of the surface of the lake is very beautiful. But on going there, we may prepare one more jacket.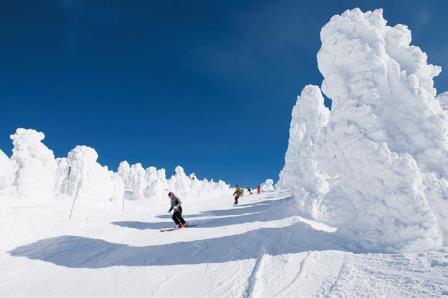 Juhyo (Ice Monster)

In the winter Zao Bodaira Kogen, "Juhyo (ice covered trees)" are produced by the accretion of ice-snow blown by wind. It's an unusual phenomenon worldwide, and is called Ice Monster. At Zao Liza World, visitors can walk around Ice Monsters standing snow field with "Kanziki (folk art snow shoes)". The beauty of mysterious Ice Monsters and panoramic world below the snow field are unforgetttable. A special snow walking guide leads the tour, so that even beginners can join easily.
Kaminoyama Castle

Kaminoyama Castle marked the southern extent of the Mogami clan territory in the Warring States of period (approx. 1467-1568), where dramatic events of power struggles were occurred. The csstle was once torn down in 1692. It was rebuilt in 1982 and is now open for public as a local museum with audio and visual equipment. From the prospect point, the full view of Zao moutain range and the town of Kaminoyama can be seen.
In spring, cherry blossom view near Kaminoyama Castle which is famous as one of the best castles is popular. The view of cherry blossom trees in full bloom seen from the prospect point is breathtaking. At night, you can also enjoy the lightening up of cherry blossoms.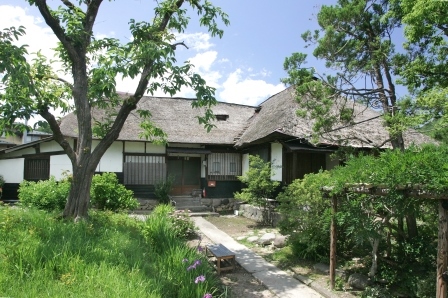 Samurai House

This was the family house of samurai who worked for the Kaminoyama castle lord in Edo period.
There remaines 4 samurai houses near the castle. They are said to be built more than 300 years ago. They have become a valuable heritage that reminds the life of the samurai at that time.
You can see the inside of Miwa family house for a fee, and valuable materials at that time are also on display. The guide will explane there.
Kyu-Sogabe family house is open for free, so we can see the garden and inside of the house.